"Taking a moment to exercise feels like an act of self care" – Nicky's single parent story
Posted 13 May 2022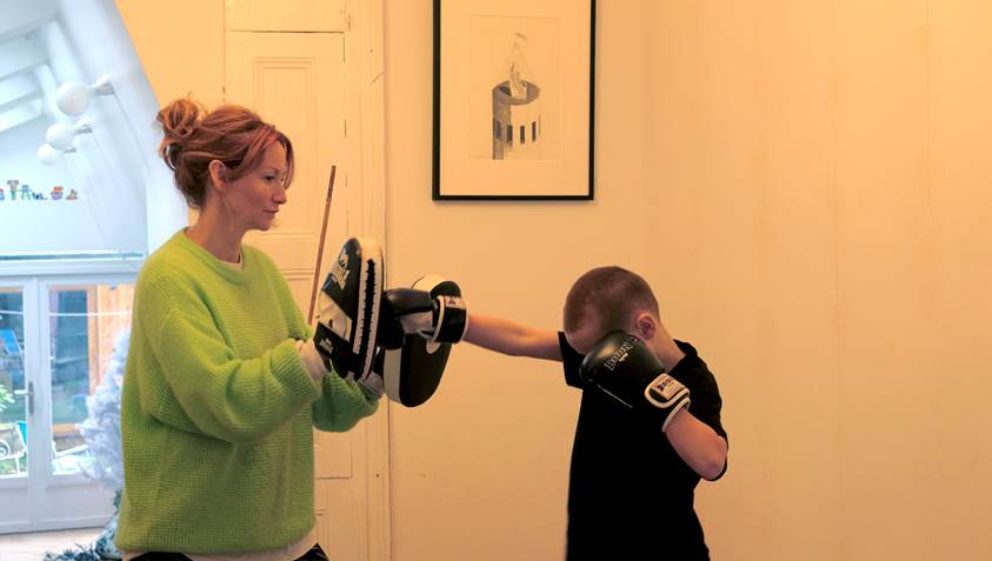 Nicky is a single parent to two children, Margot (11) and Ferris (8), and a firm believer in the power of exercise for both mental and physical health. Juggling a busy family life with running her own business, Nicky found exercising to be instrumental in maintaining her family's health and wellbeing.
Before I had kids, my exercise regime was varied – I'd have months when I took classes and ran 10k at the weekends, and then times when work was busier and exercise got pushed to the side. I've realised over the years, though, that exercise is crucial to my mental health, especially when dealing with the stress of being a single, working parent. Knowing how much better it makes us all feel, taking a moment to exercise feels like an act of self care.
We got our dog, Ralph, a couple of years ago now, and, aside from being the love of our lives, he's been amazingly beneficial to our fitness levels. No matter the weather, Ralph always needs a walk, and even when the kids aren't keen, they perk up once they're out.
Make it fun
During the week I try to fit exercise into our daily routine, so I take the odd class when the kids are at school. My current favourite is Disco Barre – it's the most uplifting class ever!
Margot is 11 now and has a very active social life, so it's often just Ferris and me at the weekends. If it's nice weather, we go to the local park and play basketball, but when it's cold and miserable we like boxing. We take turns with the gloves and pads and try to keep moving – dodging an 8-year old is surprisingly good at getting the heart rate going!
Try something new
We were introduced to Muay Thai by a family friend. I took a couple of classes, which I loved, and Ferris was really keen to try it out. At home, we stick to simple boxing practice, which feels safer. It's been great to find something that we both really enjoy, that takes up so little space, and that gets you moving even on cold rainy days.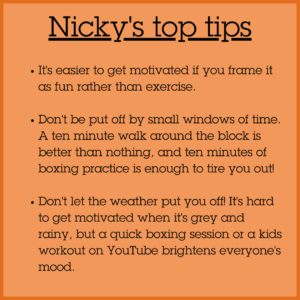 If you're looking for inspiration on how to build a better exercise routine for your family, our My Family Moves project provides you with tips, free resources and activities to help you and your kids to get active!
Sign up for the My Family Moves newsletter to keep up to date.
Sign up