Reply To: Pregnant and Alone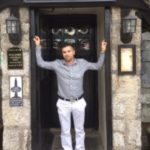 Steve1986
Participant
Hi Stephanie,
Rute is right – ultimately your focus should be on those closest to you- and getting things ready for the baby.
Stephanie- I'm just going to play devil's advocate here. Only because I can (only slightly!) see myself in your ex.
When my ex fell pregnant, we had only been together 4 months. Baby wasn't planned; I remember it well, we were away in York for the weekend. She was being sick in the evenings (…yes, I thought morning sickness actually meant it only took place in the mornings…!) 🤦🏻‍♂️
I dropped her off in Peterborough and came home to Huntingdon. No sooner had I got home and put the oven on, I had the phone call. She had taken a pregnancy test and it was positive. I was actually holding a Birds Eye crispy cod in my hand when I got the news.
I drove back over (ate the cod first obviously…), and we went to hospital to check for sure. On that drive you won't believe what was going through my head. I'd only known her a short while, I didn't want to leave Huntingdon and she didn't want to leave her home town an hour away…. how would we afford to pay for baby, etc etc etc. I guess I went quiet – but it wasn't because I wasn't interested, I was just trying to compartmentalise it in my mind. When I first heard baby's heartbeat at the hospital I was absolutely smitten. It was (ironically) fathers' day last year – 16th June (I still have the scan photo on my kitchen wall).
The following weeks were a rollercoaster for both of us. To cut a very long story short, my ex accused me of not caring, but I assure you nothing is further from the truth. She asked for a few weeks alone; I gave her that, and that was her excuse to leave (she returned to her ex, but that's another story).
When my baby girl was born in January or changed me forever. I've just sold my beloved bachelor flat and am buying a bungalow so baby can have her own room – and I'm fighting for her in court. That little girl is my world and I love her more than anything else.
When your ex meets the baby he will fall in love. He won't want to let the baby out of his sight.
Do you think you might have been a bit harsh on him? It's a lot for him to process too – he might have been doing it in his own way. He might have been looking for direction – and he got it when you ended the relationship (hence no fight).
Give him a ring, when lockdown is over, get him over for dinner. Speak about things like a plan for scans, the birth, etc. I guarantee you that when baby comes along he will want to be part of both your lives 🙂
Steve